Home team vs. Visitors is determined by a coin flip
3 players will be in the field, but the entire team will bat (again, choose wisely)
Each player can only pitch 3 outs per game.  (Recruiting Randy Johnson alone will not allow you to be lifting the trophy)
Gloves – No!
As the batter, DO NOT REACH OUT TO ATTEMPT TO CATCH A BALL.  (Automatic Strike…Strike 3 if you already have 2 strikes.)
Balls, buckets, beers in the field of play that are hit by a ball result in an automatic single in the infield or an automatic double in the outfield.
The same number of players that start the game must finish the game.  (Batting out of order results in an automatic out.)
Each player can only pitch 3 outs per game.  (Recruiting Randy Johnson alone will not allow you to be lifting the trophy)
Up to the umps discretion.

Fielding a ball in motion.
Fielding a ball in the infield/outfield.
Fair/Foul groundballs and homeruns.
Foul tips.
Whether or not it was a quick pitch.  (Warning- No Sean Casey routines before each pitch.)
Leaning in or sticking an elbow out to hit a pitch.  (Automatic Strike.  Automatic out when the batter has 2 strikes.)

Defense: The defense is made up of 3 players in the field, one of which is the pitcher.  The pitcher must pitch with a foot on the pitching rubber and the fielders can play anywhere.
All on-field disputes are settled by the umpire assigned to the game.
Each player has a maximum of (3) bad behavior/language warnings. On third warning, player and team will be ejected from the tournament. More will be discussed on this topic at the rules review prior to the tournament.
Winning team reports score to the command center.
Foul tips are strikes.
A ball must end up in the strike zone net.
A ball that doesn't clear the 15 ft. foul line in play.
Strike outs – A strike out occurs if you swing and miss on the third strike or if the ball ends up in the in the strike zone net without swinging.
Pop Outs – Anything caught (fair or foul) is an out.
Ground outs – A ground out occurs when a fielder (includes pitcher) fields a ball IN MOTION in the singles zone.  A fielded ball is one that does not hit the ground after the initial contact. Bobbles that don't hit the ground are still outs.
You cannot strikeout on a foul ball.
The day kicks off with pool/group play.  Every team is guaranteed 4 games. 
Pool/Group play consists of 3 innings.
Pool/Group Play Tie breaker – 1) Head to head  2) Run differential 3) runs scored 4) coin flip
All teams from each pool will advance to Bracket Play.

Ties between two teams will be decided by head-to-head, then runs scored, then run differential.

Bracket Play will be single elimination. Each game will consist of 3/5 innings.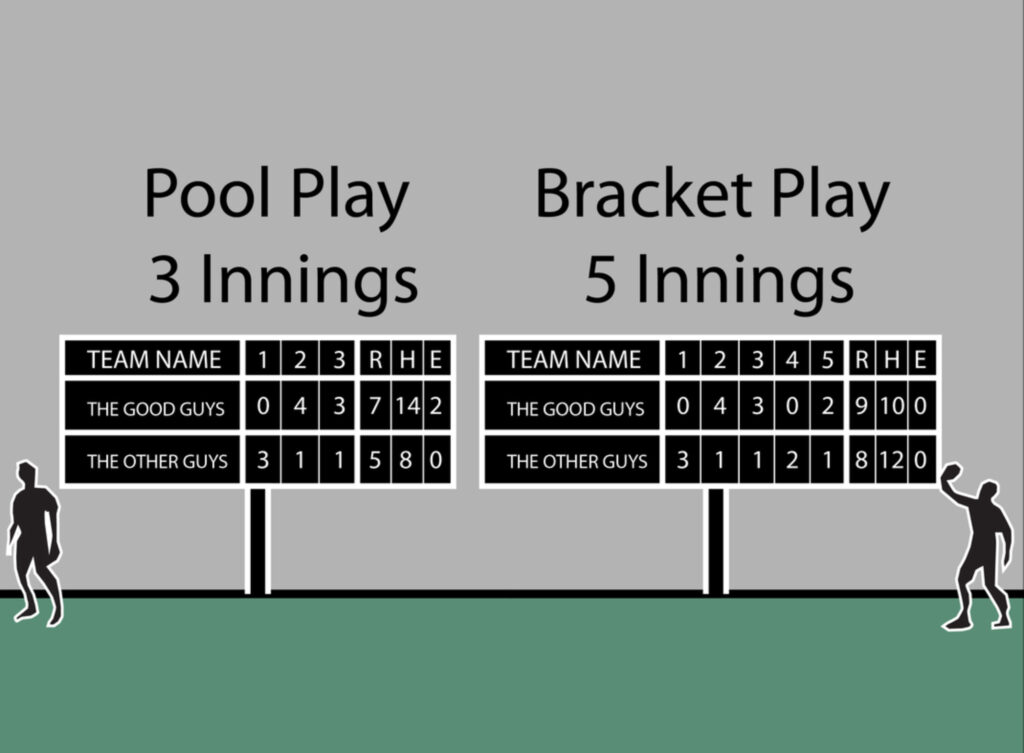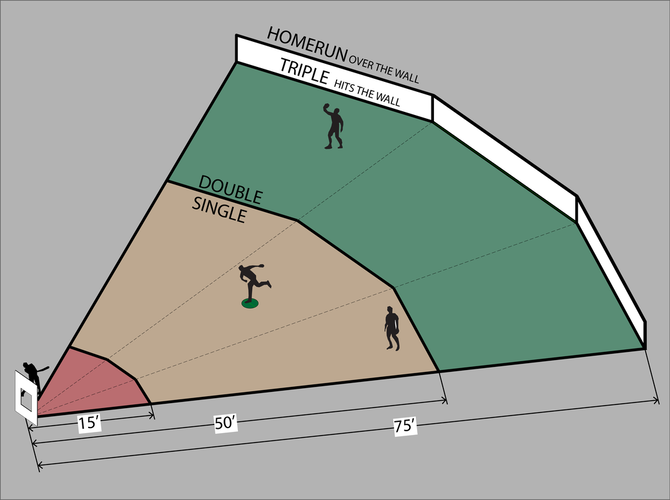 60 Degree Field of View from Home Plate
Home Run Fence at 75′